How to Pick the Perfect Swimming Pool Tile
Available in a variety of colors, textures, and sizes, swimming pool tile greatly impacts the look and feel of your outdoor living space. Going for a rustic, natural style? What about a fun and funky pop of color? Or perhaps you'd like to create a sleek and modern look? Whichever style you seek, this guide from NPT - National Pool Tile will help you find the perfect tile for your backyard.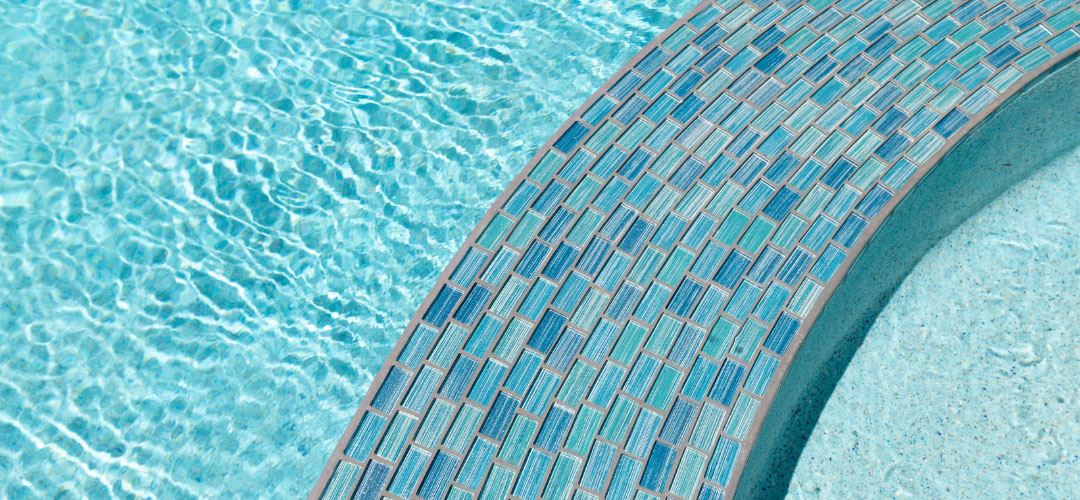 More than just good looks
Swimming pool tile does more than just add style and flair to your pool. It also helps protect your investment from waterline staining and mineral buildup. Because it's durable, water resistant, and easy to clean, tile that is designed specifically for the pool is essential.
A Swimming Pool Tile for You
The NPT Tile Catalog features 500+ stunning pool tile options to fit any style and budget. How do you choose the right one for you? Check out the descriptions and images below to compare styles and find pool tile ideas you love!
Glass Pool Tile
Glass pool tile is an amazing way to add drama and dimension to your pool. Iridescent glass pool tiles like Sea Ice, Equinox, Lightwaves, Jules, and Opal transform under sunlight, creating an eye-catching, glittering surface.
Glass pool mosaic tiles like Cosmopolitan, Fusion and Soleil are composed of tiny glass pieces that create a high-end abstract look.
Looking for that extra-special product that will make your pool stand out? NPT offers glass tiles in unique shapes like the beautiful hexagonal Starburst or Sea Glass or coin-shaped Beach Entry.
Additionally, fish scale-inspired Mermaid pool tile, geometric OceanScapes Mavericks Border tile or diamond-shaped Marquise inspire and delight.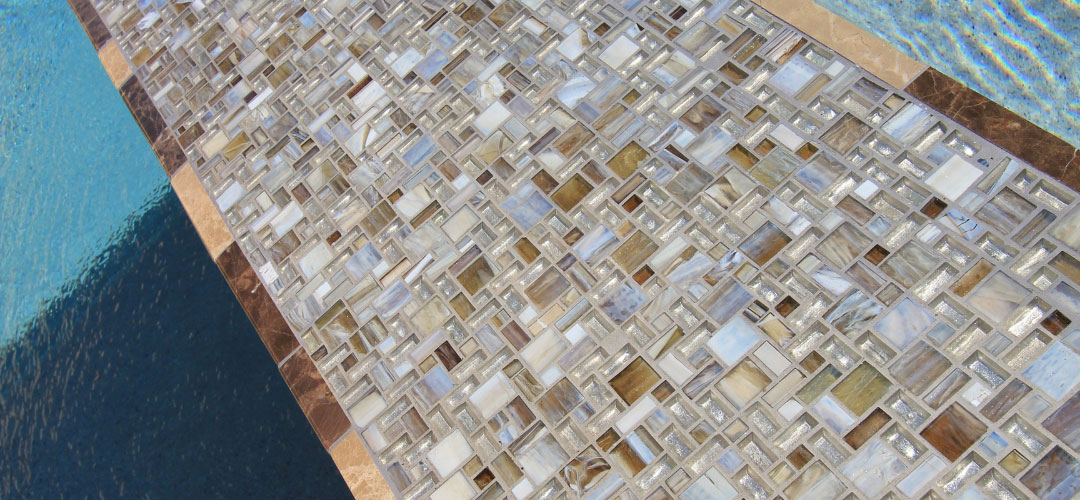 Stone Look Pool Tile
If you want a natural, organic look in your backyard, consider a pool tile inspired by real stone. NPT's stone look tiles such as Firestone, Gemstone and Sierra Blue Slate feature wide shade variations and dynamic texture. Veracruz pool tiles, available in three luxurious colors, resemble travertine while the Waterfall series evokes marble.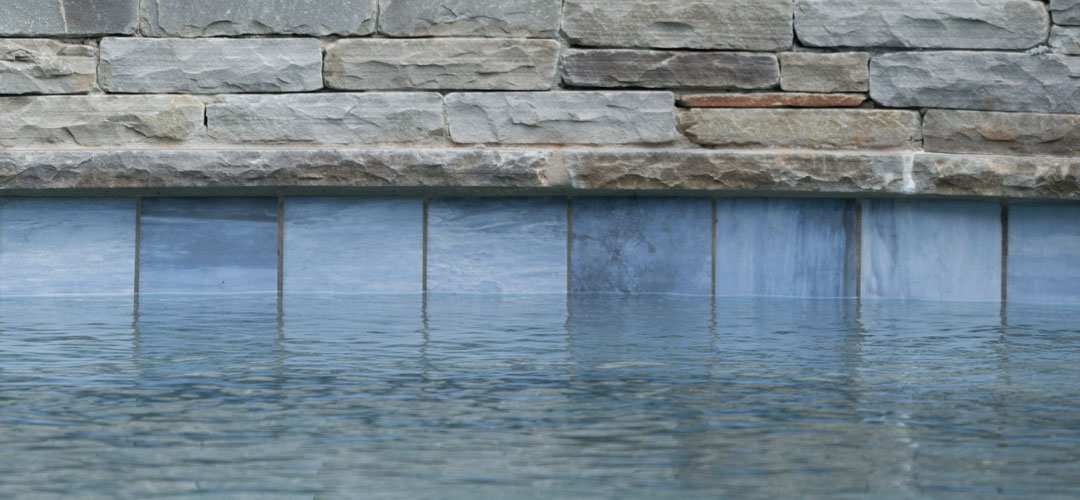 Modern Pool Tile
If you're looking for a modern aesthetic, consider working with a tile that is neutral (gray or black work best) and features a simplified design. For example, the Unglazed series such as Raven Black creates a sleek, fascinating environment that is also non-skid. Or choose a black or white basic tile like 6"x6" Solids tile or Discovery Field 3x3 pool tiles. Another option is the Oceanscapes series, a glass pool tile with sheer metallic surface - perfect for contemporary pools.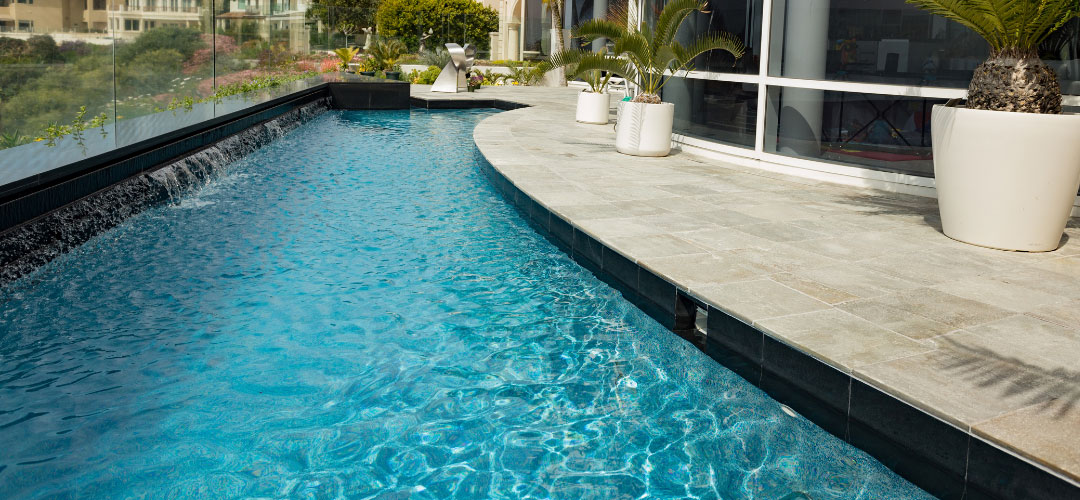 Large Format Tiles
Pool owners and designers are turning to large format tiles to cover large spaces with few grout lines. Some spectacular large format tiles from NPT are Tulipwood, a 6x36 wood look porcelain tile (it also works beautifully as a paver or hardscape accent)! Elements and Slate are luxurious stone look tiles that resemble cut slate and are available in multiple sizes including 12x24. For a totally unique look, consider Aquascapes, a 12x12 glass pool tile with elegant horizontal stripes.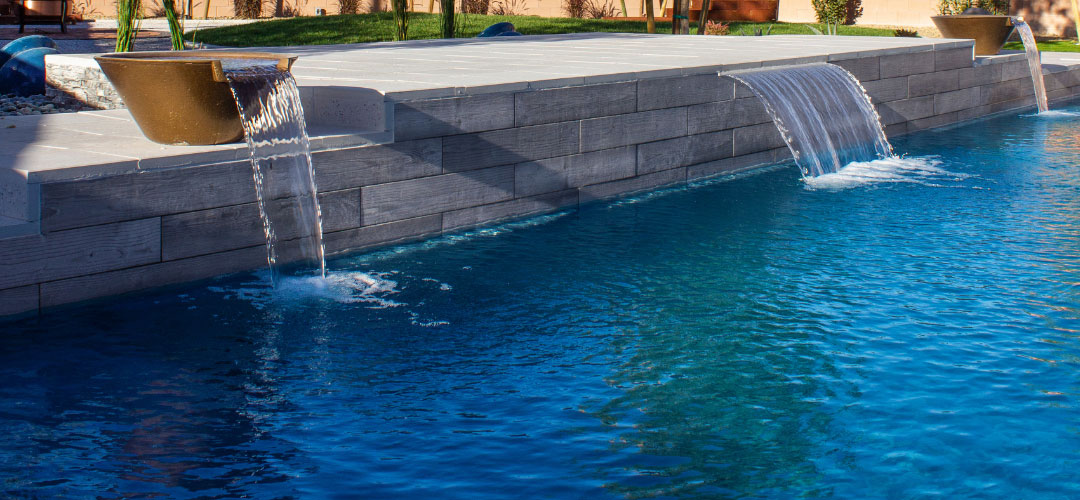 Decorative Pool Tile and Mosaics
Decorative pool tile can be added to your waterline in intervals to create a focal point or incorporated into the whole design. NPT offers deco tiles in many alluring styles like Mediterranean-inspired Hana or Spanish tile-inspired Casablanca and Iberia.
For a sweet and classic look, explore glossy deco tiles found in the Boardwalk, Geostone and Marblestone lines.
Stone look pool tiles with decorative accents are exceptional choices when you want to add a pop of color to a natural space. For example, Aztec Deco and Gemstone Deco feature colorful glass centers with stone look surround.
Other beautiful deco tiles to consider are Moonbeam, Buenos and Luciana!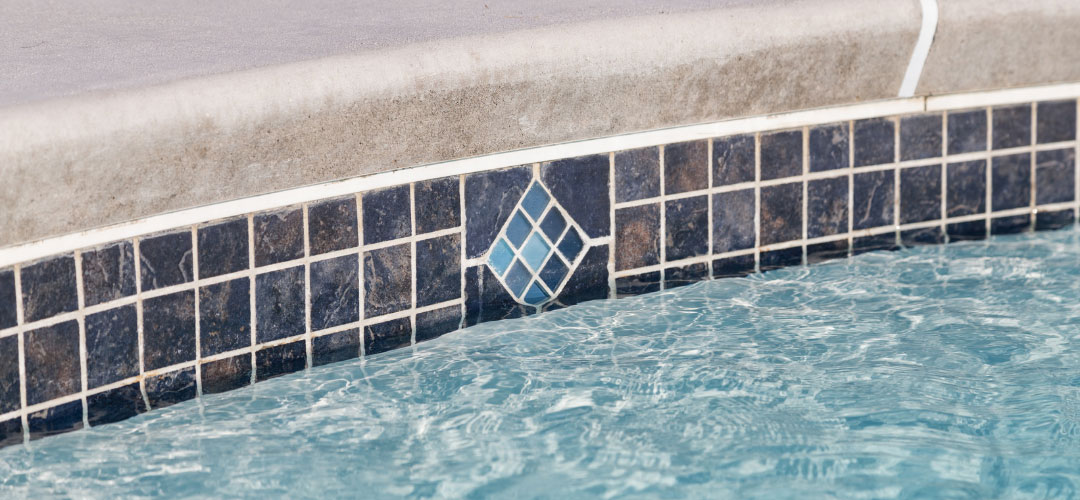 Take your design a step further with swimming pool mosaics. Choose from ceramic, contemporary or porcelain mosaics or design your own custom mosaic!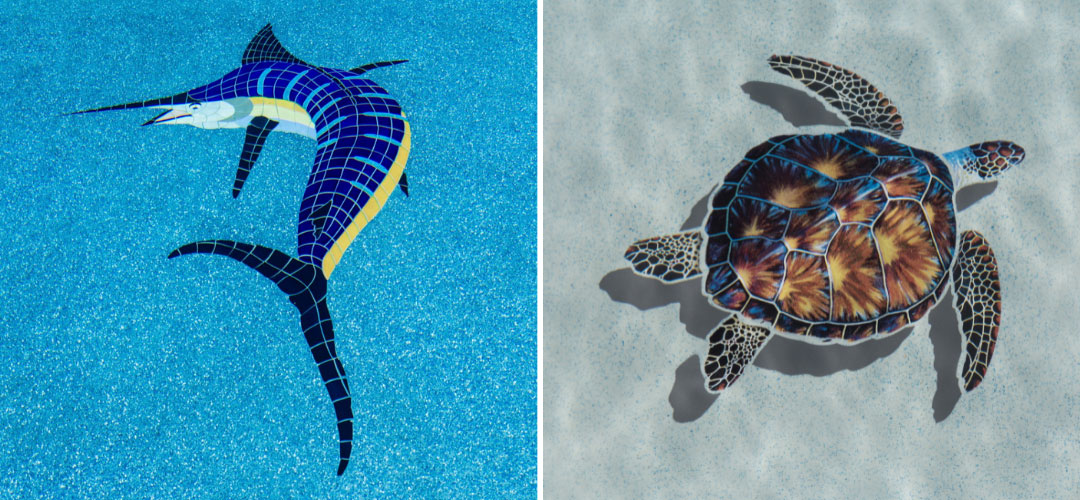 How to Choose Swimming Pool Tile
Not sure which tile is right for your pool? Here are a few things to consider:
If you want drama, size down. Small tile (think 1x1, 1.5x1.5, 2x2) allows you to create stunning, mosaics and designs.
Add a splash of color. NPT offers pool tile in a range of colors from classic to funky. Choose from a wide range of blues, silver, gold, green, gray, purple, black and more!
Mix things up. Consider picking two tiles for different areas of the pool. For example, one tile could be installed on the spillover edge of your spa while your other favorite can be used on the waterline!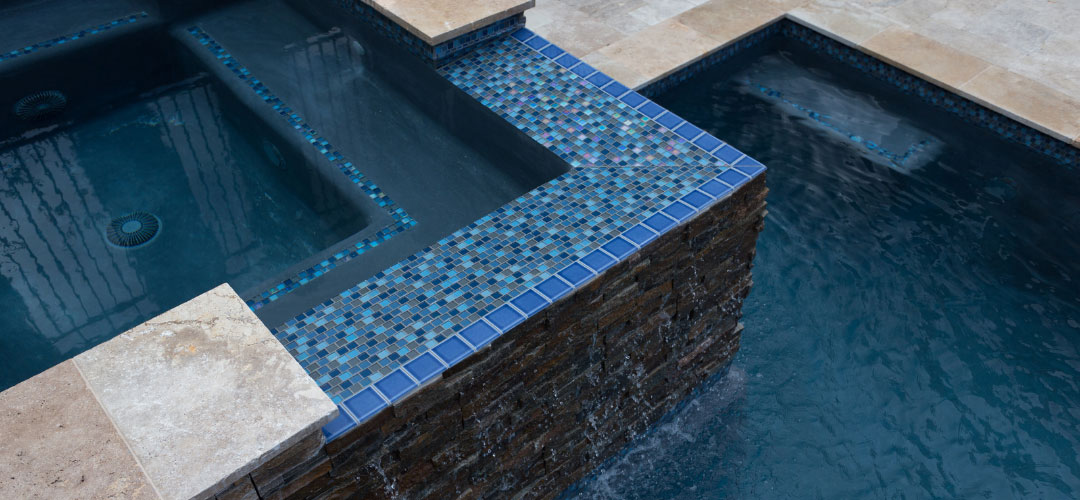 Pro Tip: Can I use "regular" kitchen or bathroom tile in my pool?
Stick with tile made specifically for swimming pools. While "regular" kitchen and bathroom tile is designed to get wet, it's not meant to be submerged, used outdoors or exposed to pool chemicals. Tile that has not been designed for swimming pools is more likely to fade, corrode, and crack -- and need repairs and replacement. For more information on the differences between pool and regular tile, check out the guide to Pool Tile vs. Regular Tile.
Find Pool Tile and Samples Near You
Start your pool tile search with NPT's Tile Catalog. View 500+ products in the online catalog or request a physical copy!
When you've identified a few favorite tiles, visit your local NPT showroom to check out samples that you can touch, feel and take home. While you're there, you can also ask to view samples of pool finishes and hardscapes to find the perfect material combinations to match your tile!