How to Pick the Perfect Pool Finish
Over the course of swimming pool history, pool finishes have advanced in incredible ways. When pools started popping up in backyards in the 1950s, the main option for pool owners was white plaster finish. Then pebble finishes were introduced in the 1980s and color options exploded into what we have today: interior surfaces in almost every hue, texture and style imaginable.
From blue, green and turquoise to black and beige, NPT offers an amazing range of colors within six distinct pool finish lines: StoneScapes, JewelScapes, QuartzScapes, PolishedScapes, ColorScapes and PlasterScapes. For a guide to the differences between all of these finishes, check out the NPT Pool Finish Guide.
With so many options to choose from, how do you pick the right finish for your inground pool? Continue reading for tips on how to choose the best interior surface for your pool! Then use NPT's Pool Finish Matcher to get paired with a finish that suits your color, texture and style needs.
Factors that Impact Your Water Color
There are many factors that influence the color of your pool's water. Pool water looks different in full sun than it does under cloud cover or in early morning vs. late afternoon hours. If you have tall trees or surrounding buildings shading your pool, the water color appears darker. A pool's shallow end also appears lighter than its deeper water.
1. Select the Right Pool Finish Color
The first step to choosing the perfect swimming pool finish is deciding what color you like best. To achieve blue water, select a pool finish with white, blue or gray pigment. For green water, choose a pool finish with green, tan, brown, gold or black pigment.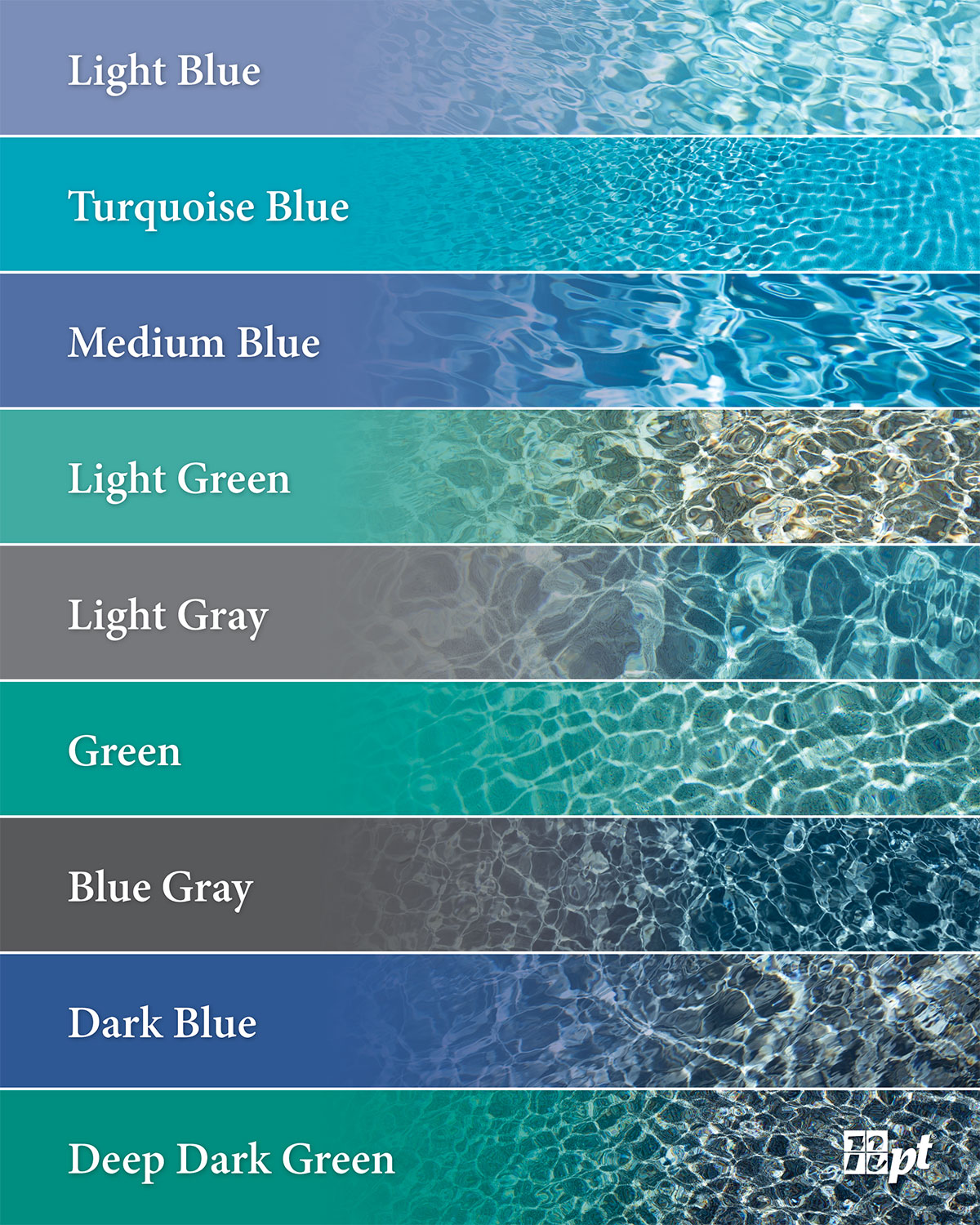 Here are 8 color options and NPT pool finish suggestions to help you create your desired color:
2. Select the Right Pool Finish Material
Do you want your pool finish to be smooth to the touch or feature a natural texture like pebble, glass or marble? Each of the six lines within the NPT Pool Finish Collection is either smooth or has a unique texture. From rustic pebble and traditional plaster to silky smooth quartz and striking glass beads, here is a look at NPT's six pool finish material options:
Key Features of Pool Finish Materials
| Product Line | Pro |
| --- | --- |
| Plaster | Affordable |
| Quartz | Durable |
| Pebble | Nature-inspired |
| Glass | Smooth, sparkly surface |
3. Select Sparkle or Not
Many NPT pool finishes feature aggregates that add sparkle, shine and color to your pool finish. If you'd like sparkle in your pool water, there are many finishes that can get you there:
NPT's Pool Finish Matcher Quiz
Take this short quiz to narrow down the dozens of NPT pool finish options. Here are some questions to consider before you start:
Color: Think about the water color you'd like to achieve. Would you like your pool water to appear blue or green? Do you prefer a lighter or darker color? Do you prefer the water to sparkle or look more mellow?
Texture: Do you like smooth to the touch finishes or natural-feeling texture like pebbles, quartz or glass beads?
Sparkle: Do you like sparkly, reflective water or prefer a more subdued look?
Ready to go? Take the quiz now!
The Unique Beauty of Your NPT Pool Finish
Every NPT pool finish is uniquely yours. The combination of your home's architecture, backyard settings, position of the sun, time of day, pool design and more will make your chosen finish one of a kind.
To get a better idea of how each of these finishes reflect the conditions in your climate, ask your local pool builder to show some examples of recent work in your area. This will help you get a more informed picture of how your chosen pool finish will likely look in your backyard.
View NPT's online catalog of finishes or visit your closest NPT showroom to view and touch samples of all finishes.